The chaplaincy team provides pastoral and spiritual care for students and staff of all faiths and none.
The chaplains are a team made up mostly of volunteers from local faith communities. We are very friendly and approachable and really care about what matters most to you.
Pastoral Care
We are not trained counsellors and the pastoral care we offer is not professional counselling. However, we are interested in journeys through life and will therefore listen attentively to whatever it is you want to share. We believe that every individual has an inherent dignity – or put another way, that each of us is essentially good. This means that we welcome encounters with other people knowing that we might learn as much from you as you might from us. We know that life is full of beginnings and endings, sad times and happy times, joys and challenges and that sometimes we need company and a listening ear. After listening we may suggest you access other support services and can help you with that. Naturally, we are always happy to talk about religion, faith and spirituality but in the context of pastoral care we would only do that at your request.
Spiritual Care
We are a place of support for your spiritual journey, offering sacred space, companionship and conversation no matter what your starting place is and whether or not you consider yourself to be religious or spiritual. We also offer specific support for religious needs – finding people and practical resources to enable you to practice your faith on and off campus. We have close connections with the Cornwall Faith Forum who help us to link students and staff with smaller faith communities that have a less visible presence on campus. We also offer support for anybody finding it difficult to be a person of faith and advocate on your behalf when necessary; and we enjoy helping with relevant academic projects that involve faith or spirituality.
Our spaces
Penryn: our chaplaincy space on the Penryn campus is located in Tremough Barton Cottage 8. You can find us by following signs for the Sports Centre, and then continuing down the tree-lined lane. In our cottage space you will find comfy sofas, a big table for meals and conversations, a prayer and meditation space (available on a first-come, first-served basis), and plenty of books about religion and spirituality. Students who visit call the space a hidden gem. The cottage is open Monday-Friday, 9am-5pm and most afternoons you will be warmly greeted by one of our friendly chaplains. We also host outdoor events – such as bonfires – at the Cob Shed, located nearby.

Falmouth: we have a cosy room in the Fox Building on Falmouth Campus. This space is open Monday-Friday, 9am-5pm. Like at Penryn, there are comfortable sofas, tea-making facilities and space for you to take a breather. The chaplaincy team also looks after the Belmont Garden space which is located in front of the Life Drawing Studio.

Truro: Staff and students based at the Royal Cornwall Hospital, Treliske, can use the hospital chaplaincy space which is located in the Tower Block. The hospital chaplaincy offers a chapel and a Muslim prayer room.
Our Chaplaincy Team
Fran Freeman
Hello! I am the Catholic Lay Chaplain. I moved to Cornwall fifteen years ago with my husband and two children and feel very grateful to live in such a beautiful part of the world.
Read More…
My favourite activities are walking along the many coastal paths with our chocolate Labrador, Archie, swimming in the sea, barbeques and picnics, coffees out and the cinema.
I believe that everyone yearns to find the true version of themselves and I hope that at the Chaplaincy you may find it. I look forward to meeting you whether you have a strong faith or none; what matters is that you are searching.
Jan Webb
Hi! I moved to Cornwall ten years ago with my husband and two cats. Sadly, my cats grew old here and are no longer part of the family. I am a vegan who loves baking and I enjoy being part of Red River Singers. I love walking, gardening, reading, labyrinths and laughing. I'm looking forward to meeting you.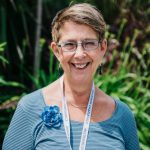 Mary Jones
Hi! I love hearing about people's life stories, their ups and downs, their likes and dislikes, about family and friends, beliefs and uncertainties; it's so good to talk, and so helpful for our wellbeing.
Read More…
For me, listening to the ins and outs that over time help to make us who we've become is just so interesting.
I also love music, singing, walking, mind-body awareness, sunshine, picking the flowers my husband grows and our two cats. I lived in Cornwall my whole life until 2020 and for the last decade it's been an honour and pleasure to have worked in mental health chaplaincy, then at Treliske and in the neurological rehab unit in Hayle. When wandering around the Penryn Campus the orchard was one of my favourite places – before we moved to Hampshire to be near family. So now, I'm a virtual chaplain and am looking forward to meeting some of you online or on the phone. Take care, you're worth it!
Pat McGovern
Hello! I am the dedicated chaplain for Truro Campus. Having spent a working lifetime in the world of Education, I really enjoy supporting students and staff of all faiths and none as a chaplain at the Medical School.
Read More…
My faith has always been important to me and it has guided me throughout my life. Now that I have time available, I would like to use that faith to serve others in ways that might help them to flourish. I am strongly motivated by the concept of social justice and firmly believe that all people are made in the image of God, have that divine "spark" within them and should always be treated with dignity. I also recognise that life is a complex journey and sometimes we all need a companion to share the road.
I am married with five grown children and eight grandchildren, who keep us entertained, active and young at heart! Cycling around the lanes and trails of Cornwall has become a real passion in recent years with plenty of "ups and downs" given the rigours of the landscape in this beautiful County. I also enjoy walking, skiing, rugby (watching these days!), theatre and reading. I hope that we get a chance to meet up, have a cup of tea and chat about whatever is on your mind.
Pete King
Hi! I retired to Cornwall five years ago having taught History and Criminology for thirty years in various universities upcountry. My golden retriever dogs Bailey comes into the chaplaincy with me on a Friday and he loves spending time with students. I go to Harbour church and I am also involved in a non-denominational discussion/prayer group in Mawnan Smith. I am also helping my wife to build a contemplative garden in land behind our house on the Helford Estuary
Pete Amoss
Hello! I am a Father to four and a Grandfather to seven and they are usually located in four Countries on three Continents! I have lived in London, Essex, Hertfordshire, Wales … and Paraguay! When repairing a car way back in the '70's the owner, whilst watching and waiting, reflected on my surname A.M.O.S.S. and suddenly said "All…Manner…Of…Services…Supplied!"
Read More…
That is certainly one possible description of my life, character and abilities. In the Construction Industry I designed buildings and parts of buildings, in the Health Sector I worked in logistics, stores and buildings maintenance and in Justice Services served as a Prison Chaplain. I have studied full-time, part-time and by Distance Learning.
I have found myself enjoying being both a pastoral 'people' person and a creative practical 'hands-on' person. Along with my wife I have recently moved from South Wales to Cornwall to help with the setting up of a new church community in Falmouth. I am about to enter my 60th year of having a living relationship with Jesus and as a prison inmate once said to me, finding that the Bible does indeed provide the "Best Instructions Before Leaving Earth!! "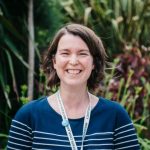 Rebecca Nesbitt
Hello, I'm Becky, the Co-Ordinating Chaplain and it's my job to manage our lovely chaplaincy team. I live in Penryn with my husband, my son, stepson and our cat Diesel. I'm a big believer in Higher Education as a space in which we can all grow and I'm passionate about the unique service our team offers to our community. I believe very strongly in the inherent worth of every individual and love accompanying staff and students on their journeys.
Zoe Young
Hi! I'm pleased to be here for anyone who feels Pagan, Buddhist, polytheist, atheist, agnostic, animist, pantheist, discordian, 'spiritual but not religious', 'out there' or generally 'other'.
Read More…
I recently completed my Master's in Fine Art at Falmouth, and as the artist Frida Go, I'm a priestess in the Western Mystery Tradition. From a big and bohemian London tribe, I've worked in politics, research and writing, resistance and making films on ecology, economy and human rights.

A raver, punk and traveller, I won't be shocked by much. I'll mainly be found pottering in the Belmont veg garden and walking my lively lurcher, Brioc, to the graveyard, woods and beach
Do you have to have religious beliefs to access the Multifaith Chaplaincy?
No, you don't. The chaplaincy team offer pastoral and spiritual care for students of all faiths and none. All of the chaplaincy team are members of faith communities of various sorts. We are motivated by our beliefs and spirituality to be available to those who would like someone to walk alongside them for a while at this particular time in their journey. We are always happy to talk about faith and spirituality, but in the context of pastoral care we would only do that at your instigation, and would never seek to convert you in any way